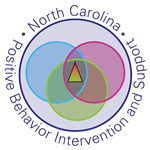 PBIS – Positive Behavior Intervention and Support
As you walk down the halls of our school, you will notice some changes that we have implemented to promote a more positive and safe school culture. PBIS (Positive Behavior Interventions and Support) is a research based behavior program supported by Buncombe County Schools. Through this program, students will actively learn school expectations through a variety of lessons and activities. PBIS practices are founded on the assumption and belief that all children can exhibit the appropriate behavior. Staff will use a proactive approach to teach appropriate behavior throughout the school community. Using the PBIS framework, staff will use common language, practices and consistent criteria to address both positive and negative behaviors.
In support of the PBIS framework, our staff sees the connection between Stephen R. Covey's The Leader in Me book and our school's new initiatives relating to student behavior management. Throughout the school year, concepts of The Leader in Me will become part of the Bell culture. Student leadership will be a key component to our focus this school year.